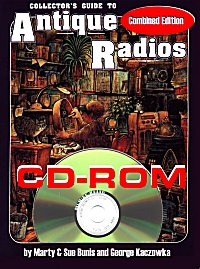 What people are saying about the new CD...


Want give us YOUR comments? Please send us an E-mail!

We have been reviewed! - Antique Radio Classified - The major antique radio collector's magazine reviews the CD-ROM!

The following comments are reprinted with permission:

"I received your CD this morning and....I've no words to describe your work. Absolutely wonderful. Complete, easy to use, smashing high quality images... and extremely user-friendly. I've no doubts: this is THE guide. Well done!!!!!!! Recommended to every European radio-man too! Who's gonna write a European CD Rom guide like this? " - Luca Posca, Como, Italy

"I've had the cd rom about a month. Great job on putting it together! The cd rom is probably the most comprehensive source of information on radio collecting that I've seen. Thanks!" - Tom Neely, Georgia

"It arrived on Saturday! Thanks!! The CD is even better than the book! Great job!" - John Cruzan, President, Cruzan Information Systems Inc. (DBA ComputerLand of Joplin)

"It looks and works great. Choosing the html interface is a good decision, it provides a rapid and clear access to the database. Over the years I have bought 2 of your books, but the exaggerated exchange rate handled by book stores here in Amsterdam kept me from buying the others. This CD however, is value for money! But I would like to take the liberty to point you to the fact that there is still [a lot of room] available on the CD. Great space for adding some relevant info about the radio's, like tube line-up, or production years (quantities) and, apart from the price, whether a set is rare or common" - Hans Agema, Amsterdam

"Is it possible for you to send me another CD-rom? I have given away mine to a friend. By the way you did a very good job, everything looks nice." - Ger Rosendahl, The Netherlands

---
© 1998 by Marty and Sue Bunis and George Kaczowka, All Rights Reserved.