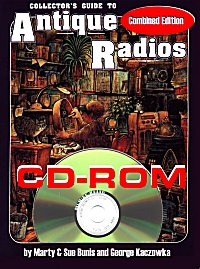 Collector's Guide to Antique Radios
Combined Edition CD-ROM
by Marty and Sue Bunis and George Kaczowka
Last Updated February 6, 1998...
Issues found using the CD..
We have heard of the following problems when using the CD Rom. If you encounter a problem other than what is listed, please contact us.
Links do not work properly using Microsoft Internet Explorer v3.0 under Windows NT v4.0 and Windows 95

There is a problem with the way Internet Explorer treats web pages locally on NT4.0(SP3) and Windows 95. This has not been reported on other versions of Windows at this time. The problem seems to stem from the use of forward slashes and reverse slashes to get access to a page.

This problem did not seem to occur with IE 4.0 or Netscape 3.02. Upgrading to these browsers seemed to solve the problem.




Large pages, especially the RCA listings cause Netscape v3 problems under Windows 3.11.

After veiwing photos from the RCA pages, the Netscape display seems to deteriorate progressively until you have to shut down Netscape and start over.

This seems to be a problem of internal tables within Netscape being overwritten by large web pages with multiple photos. This was the reason that RCA, Philco, and Zenith were broken into multiple pages. Evidently, on some versions of Windows, this problem persists. Three possible work-arounds have been reported:

Switching to Internet Explorer solved this issue.
One individual indicated that holding down the left mouse button while scrolling made it better.
One report suggested that using the standard SVGA drivers helped.

I would recomment the first option, and use Internet Explorer.
Many thanks to the folks who have helped us identify these issues and work-arounds! If you find a problem, please do not hesitate to contact us, and we will see what we can do to help!
---
(c) 1996 by Marty and Sue Bunis and George Kaczowka, All Rights Reserved.