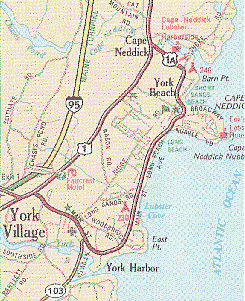 Where IS York Beach, Maine?
York Beach is on US Rt 1A. It is about 15 mins north of Portsmouth NH and about 70 mins from Boston. After entering Maine on Rt 95, take exit 4, and continue to the lights. Take a right onto Rt 1 South. At the next set of lights, take a left onto Rt 1A and head into York Village. Continue past the village, and follow Rt 1A north past Long Sands Beach, the Nubble, to Short Sands beach.

Come along on a short tour of the town.. Tour 1 is a tour by recent photographs. Tour 2 is a tour based on old postcards, mostly from about 1910. At any point in the tour, you may return here by clicking on the Map button. Enjoy!

---
Copyright © 1996-2006 oldradios, All Rights Reserved. - Use this link to contact me